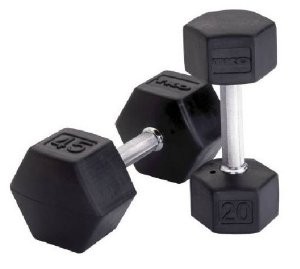 TKO RUBBER ENCASED HEX DUMBBELL
The TKO Rubber Dumbbells main design allows a anti-roll body whilst maintain precision in balance, structure and build quality. The Dumbbells come in sizes 3lbs – 25lbs which is the equivalent to 1 – 10kg in weight.
Patented Tri Grip® handle allows for secure grip
SDS Secure Dumbbell System Patented design
Durable rubber is odorless, will not crack or fade & prevents damage to floors & equipment
Ideal for home, vertical & commercial markets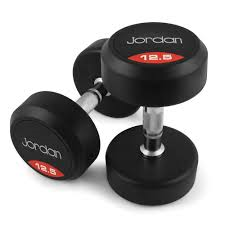 JORDAN RUBBER DUMBELLS (SOLID ENDS) 2.5KG – 62.5KG
Stylish and durable black rubber finish will not chip or damage machines Our unique J-lock system helps prevent loosening of the dumbbell head and minimises maintenance
The product consists of a pair of high quality dumbells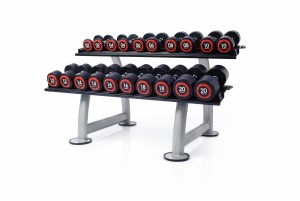 ESCAPE SBX DUMBBELLS (AVAILABLE IN 2KG – 50KG WEIGHTS)
The Escape SBX Dumbells come as a high quality design that is made to be resistant to everyday knocks and bumps. The sleek rounded designed features easy-identified sizes at each end to make it easy for the user.
The Dumbells range in weight from 2.5kg up to and including 50kg, The Dumbells come as a Pair. Rack Not Included.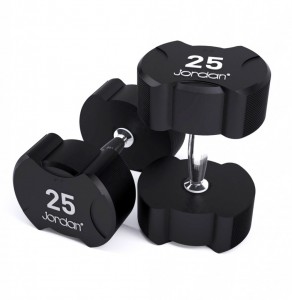 JORDAN IGNITE RUBBER PREMIUM DUMBBELLS 2.5-50KG (2.5KG INCREMENTS / 10 PAIRS) + RACK
• Raised number weight identification
• 2 Year warranty on rubber
• Unique and stylish Anti-Roll design
• Rubber is only available in black
• Made from solid steel, which is a more durable and compact material than other cast iron products on the market
• Totally encapsulated, no end caps to come off
• Heat treated handles, which make the more durable and far less likely to bend. Brushed steel handles rather than chrome, so no possibility of flaking.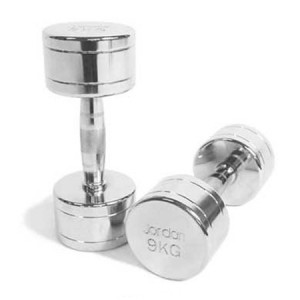 JORDAN 2KG-20KG CHROME DUMBBELL SET WITH VERTICAL RACK
Featuring stylish, durable chrome dumbbells ranging from 2-20kg, this Jordan dumbbell set & vertical rack is ideal for any commercial or home gym. With engraved numbered ends providing an easily identifiable weight, the dumbbells offer easy comfort grip handles and are chip proof.
Showcased on a space saving vertically designed rack that hosts durable plastic rests to prevent damage, these increment in 2kg measurements.